Vet practice logo design for new Crosby Vet practice
We've worked with Village vets for over 10 years now, designing the original Village Vets branding and helping them with marketing and printed materials for their hugely popular and successful vet practice in Formby.
When we heard that Kate Higgins (Owner of village vets) had decided to branch out and open a new vet practice in Crosby Village , we jumped at the chance to get creative and work on a dual-brand for both practices that kept the values of the original branch but embraced the new location.
We really wanted to use a local landmark or feature (just like the red squirrels of Formby) as an anchor for the new branding.
As it happens, Crosby in Liverpool has some very interesting beach sculptures by artist Antony Gormley. His famous 'iron men' are the ideal icon for the new Crosby Vet branding.
Dual branding
To help simplify, consolidate and save on print wastage – it was agreed early on that we should create a brand that was future proof. If Village Vets decides to expand further, we are able to hang all our individual practice logos under one main umbrella brand. whilst being free to generate specific marketing for each practice as required.
The VIP Club, Village Vet's in-house healthcare plan would become generic across all branches which meant we would revitalise the old VIP Club branding and produce a much cleaner version inline with the new logos.
Launching the new Crosby vet practice
The new practice is opening its doors on the 26th November 2016, so if you're reading this after that date, we will have completed the launch, website and all the marketing materials to help them launch the new vet practice in Crosby.
To drum up local interest we've built a website landing page. This has been online for a few weeks and is focused on generating new client registrations. We're offering the chance to win a Hamper and every entrant will receive an exclusive invite to the launch party.
We've also created a new Facebook page where we've been running a photo competition to find a #CrosbyVIP pet to help with generating interest and interaction (and likes!) on the page.
Full website design for crosby.vet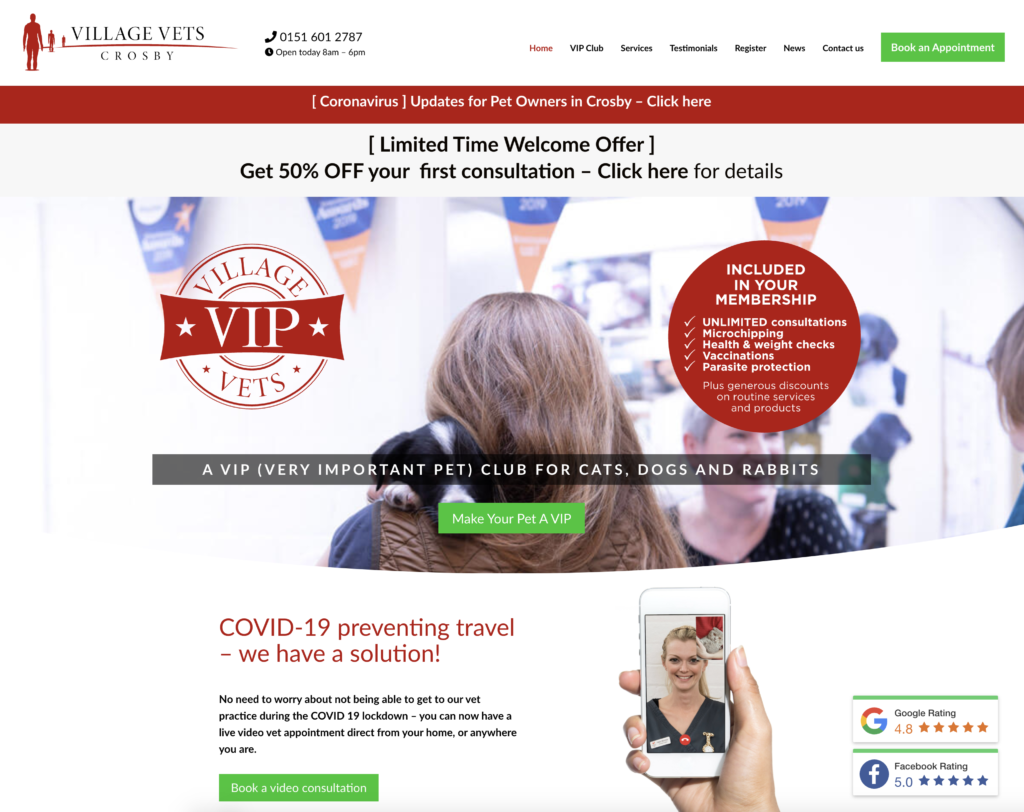 Transform your vet practice branding
We'll give you a fresh approach to all your branding and marketing