Once you've completed your discovery and research and found your true 'you', the next step is to work out exactly who your clients are, and think about what their 'why' is  – this is going to help to target and hone your vet practice brand.
Establishing a buyer persona will help you work out;
how to talk to them,
when to talk to them,
and through which media to market to them (local paper, online, emails, direct mail etc)
You'll then have a better idea what motivates them, what appeals to them, and importantly … what doesn't.

Getting this right can have an impact on your branding decisions, and will determine the effectiveness of your marketing content. Needless to say, the more meaningful and relevant your marketing is to the people you're talking to, the more effective it will be.
Online and offline marketing space becoming busier and more crowded all the time. By creating ultra-targeted messages you can make people prick up their ears as it applies directly to them, and is ideally being delivered over their preferred platform at a time they can listen.  Get this right and you have a much higher chance of your message registering with them. Successful communication can ONLY take place at the right time and under the right circumstances, and if people don't pay attention to your messaging, or it isn't relevant to them, it's all a waste of both effort and expense.
1. Find out what a buyer persona is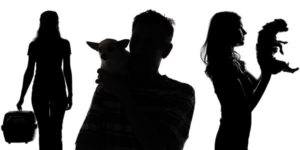 Buyer personas are fictional and generalised characters. They examine and illuminate the demographic and psychographic characteristics of your clients, the clients you want more of, and could even tell you which type of client you DON'T want! And if you look at the clients who come in to your practice you generally find you have a few different types, so don't think you've done something wrong if you need to create two or even more buyer persona's.
2. Discover the kind of information you need on these people
Don't worry – we're not suggesting you turn in to stalkers.
Anyone in a customer-facing role in the practice should be able to give clues on the kind of clients you're getting in. You need to have an idea of:
their income
where they live
what they do during the day
their age
what papers they read
what they do for fun.
Once you start thinking about this you can add in the slightly more complicated psychographic elements such as their motivators.
3. Download our free vet practice buyer persona worksheet
This handy sheet can be used to create as many customer personas as you need to build a picture of your core clients. We've included spaces for you to put an imaginary picture and name. Eg. Personas might be Dog owner Doris or Cat owner Clive.
TIP: Get as imaginative as you like with the names, it'll help you categorise people quickly. And, why not get the reception team to help you, they could be your secret weapon in determining the different types of people who come through the practice doors.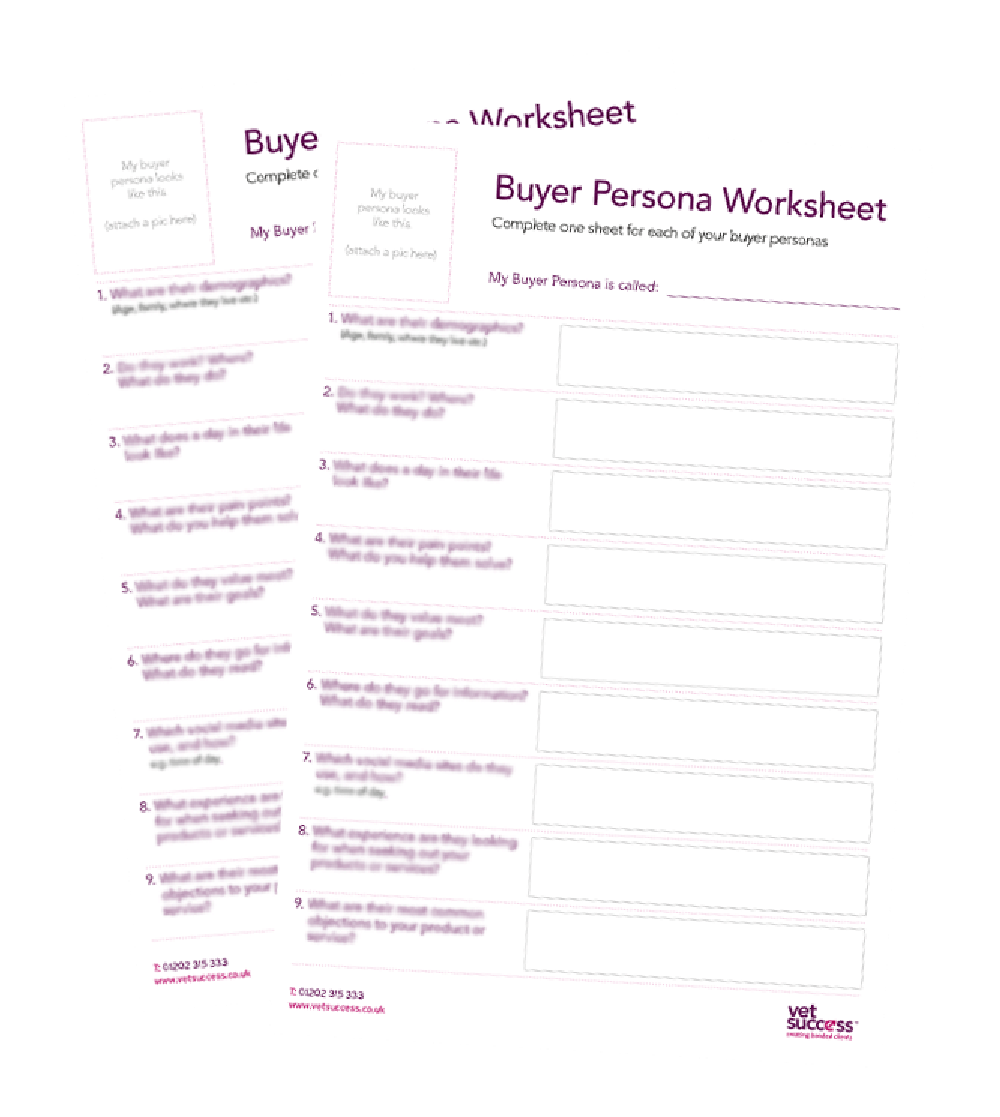 4. The last step – what to do with it!
Now you have a good idea of who you have coming in to the practice, you should probably ask yourselves a few fundamental questions such as …do we want more of this type of person?! If they're clients who tend to cause trouble, don't pay their bills, don't have pet insurance and wouldn't consider being part of your healthcare plan then you might decide that you need to alter your brand and marketing and gain some different types.
If you need to go down this route, or if you decide that you need more new clients like the ones you have and to get more money from the existing ones, then you can start to tailor your messaging accordingly.
You know which papers they read, if they'd rather get printed collateral or emails, and probably even which time of day its best for these to arrive.
You have a good idea what motivates them – wanting their companion with them for as long as possible, making life easier for themselves by having parasite products available every few months and vaccinations covered, by being seen to be doing the right things by bringing their pet in for a dental after having been informed how dangerous dental decay can be.
So make it easy for them and offer them what they want.
5. Need some help with this?
Call 01202 028 125 and ask for Jacqui or send us a message here.