Direct Marketing Services
..that's postal and email campaigns to you an me! 
Use our direct marketing services to promote your practice and reap the benefits
Not all practices are ready for more enquiries or more clients.
Take-up of your preventative healthcare scheme is often a good indicator of how effective a practice is at attracting and retaining the most valuable clients.
None of us like being sold to. What's our first reaction when a shop assistant saunters over and says "can I help you?" Most likely, we say "no thanks, I'm just looking" – even when that's not true. And it's only natural that practice staff get bored of talking about the same thing over and over again.
This is why the growth of a healthcare plan often reaches a plateau. Sometimes you'll see a period of growth (usually after a moan from the practice management staff) and then another plateau. The longer you've had a healthcare plan in your practice, the longer those plateaus become. You might even find that membership levels decrease slightly.
The best direct marketing services consistently find ways to highlight the benefits of preventative healthcare, but never bores your clients or feels like a hard sell. Effective direct marketing encourages your clients to make the initial enquiry. Now, all your team need to do is be familiar with the benefits of membership and have a conversation, prompted by the client.
If you've tried to do this kind of marketing yourself, you already know how time-consuming it is. You know how long it takes and how hard it can be to maintain the effort over a prolonged period – which is exactly what you need to do in order to see results. You also know how frustrating it is to keep finding errors in your data.
That's why we've designed a programme where we do everything for you.
And remember, people buy when it suits them, not when it suits us. That's why regular and relevant marketing is essential. When your client is ready to say "yes, tell me more", you need to be sure it's you they're thinking of and not your competitor.
One practice saw an 89% increase in preventative healthcare subscriptions by using VetSuccess direct marketing services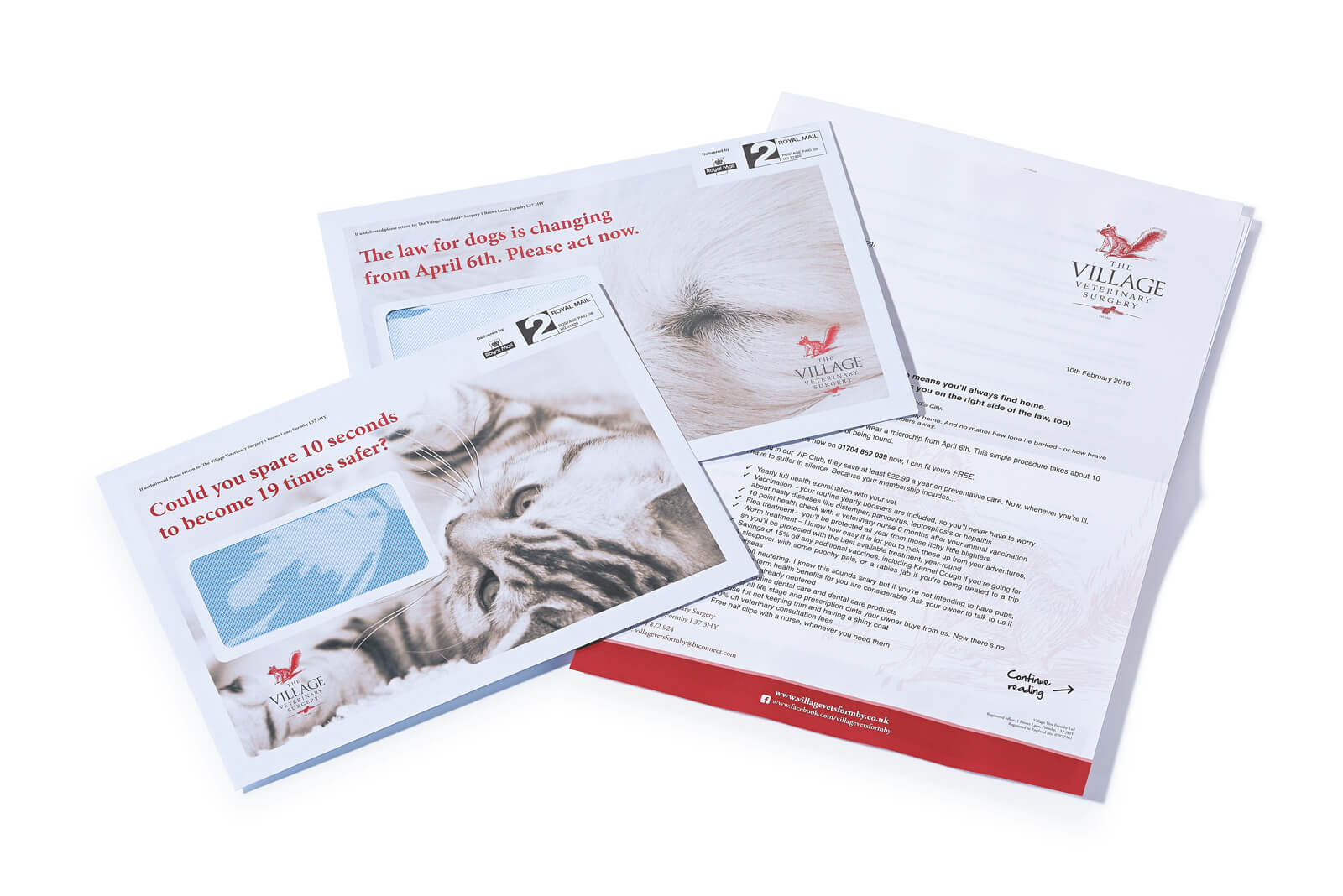 Our done-for-you direct marketing campaigns can help you to:
Increase membership of your preventative healthcare scheme
Improve compliance levels – the clients who cancel are those who don't see the value of membership
Ethically increase sales of additional products and services – by segmenting your database you will only ever promote relevant products and services to each group of clients
Increase the lifetime value of your clients
Increase word-of-mouth referrals – compliant preventative healthcare members have more contact with the practice and will be more vocal about the outstanding care you provide
How these marketing campaigns will benefit your practice:
Increased revenue (both short- and long-term) and profitability – it's much easier and more cost-effective to increase spend among your existing clients than to attract new clients
Reduce price sensitivity and increase loyalty – preventative healthcare members are less likely to shop around, and spend almost three times as much as non-members
Better communication with your clients means you are always front-of-mind when they need a vet
We do all of these things consistently,
and our method works.
Campaign Topics
…our pre-designed campaigns are ready to go when you are!
Campaign topics you can choose from include:
Healthy Pet Club awareness
Dentals
Seniors
Diet
Parasites
Behaviour
Microchipping
Whilst these campaigns are available as pre-packaged bundles, we'll make sure they are tailor-made to suit the needs of your practice. Each element of the campaign will be on-brand and consistent with your message.
What we do
We work with you to determine the market segment for your chosen campaign – eg you might focus on owners of dogs and cats aged 4+ for your dental campaign. Each campaign lasts a month from our first communication with your clients and includes three key elements; Offline, Online, and In the practice.
We treat your money like our money, and to ensure that every penny is being spent wisely we make our campaigns measurable from the outset.
With regular feedback and reporting, you'll be able to see just how much difference we're making to your bottom line and you need only invest a minimal amount of your time.
You get the benefit of a highly experienced marketing team when you need it, but a team who don't take up office space, don't get paid holidays and who provide their own coffee!
Offline
Data analysis and cleanse
Direct mail to target group
Setting up a 'phone number exclusively for this campaign
Monitoring inbound calls and providing constructive feedback
Press release and photo (where applicable)
Online
Emails to clients in the target group
Facebook text and image
Local targeted online advertising through Adwords / Facebook
In the practice
Posters for reception & consultation rooms
Leaflets
Briefing document for practice staff
Ready for some serious growth?
Talk to us about direct marketing and the services Vet Success can offer your veterinary practice